Charter buses Los Angeles, CA
The best Los Angeles charter bus rental service
Have the best charter bus rental experience while knowing the most famous tourist attractions and traveling around Los Angeles, CA! Whether you are planning a trip to Santa Monica Pier, the Hollywood Walk of Fame, Los Angeles Zoo, or Griffith Park, make sure your group trip with the most quality and reliable transportation service to travel comfortably and stress-free. For years, we have been providing excellent service in the charter bus industry and satisfying our high-profile clients. That's why our fleet, workers, and service keep the highest standards in efficiency, comfort, and safety. We want to be your best ally for your trips in Los Angeles and the surrounding area, so call us today and make your reservation for your next trip.
Make your road trip around the Los Angeles area a great adventure with our private charter bus rental service! Don't stress; we know that the last thing that you desire in your vacations or trips is to have worried; leave that we take care of the heavy lifting and you enjoy with your family and friends. No matter if you only travel with your family and few friends or if you will carry a sports team to sporting events, we always have the perfect bus with the ideal size to accommodate your group without problems. Come and know our charter buses, mini buses, Sprinter vans, and other vehicle options. Do you want to book a charter bus but need advice? If so, contact us, and our specialists will show you some charter bus options.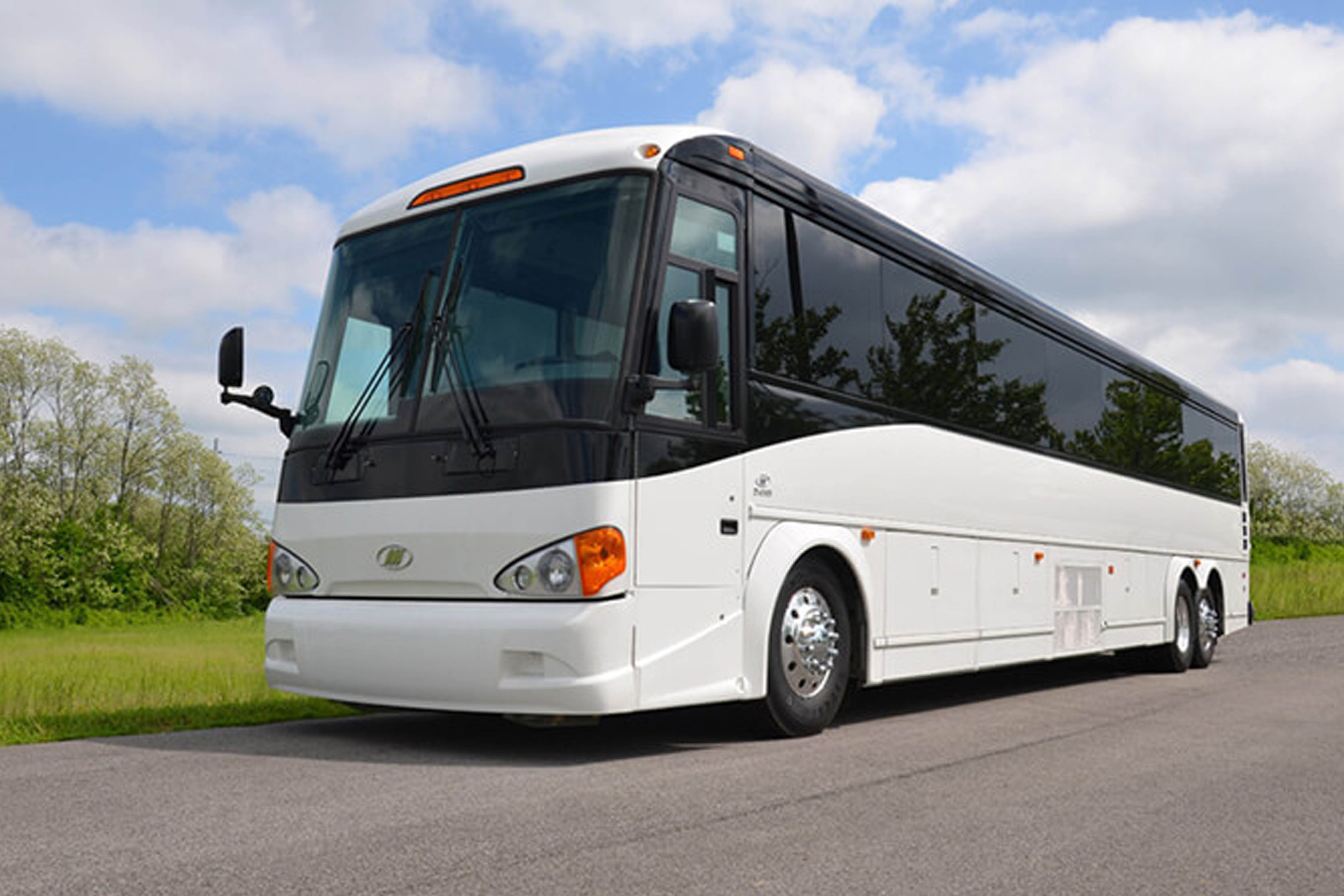 Rent a bus for your trips and events
Our ground transportation service is a great choice for any special occasion or trip in Los Angeles and Southern California! If you are planning a private trip or city tour with your loved ones, a charter bus or mini bus (depending on the group size) is perfect. Also, our bus service will provide the comfort and efficiency you expect for a business trip or corporate event. Even if you are waiting for a large group from outside the city, you can pick'em and drop'em in any place in Los Angeles and the surrounding area with our shuttle bus services. Further, if you need to go to your work commitments and meetings with your co-workers and partners, we recommend our Sprinter van service, ideal for short-distance trips. We are ready to offer the best service and featured buses for successful events and trips, so request your charter bus quote now!
Our mini bus and charter bus rental service is not only suitable for group travels but also all types of groups. For example, if your wedding day is coming up and you need a transportation option for a large group of guests, you should consider a charter bus. Besides, if you are looking for school bus rental service for a field trip with students, our charter buses will provide you with more comfort and entertainment options than a school bus. No matter the size of your group or the type of event or trip, we have a professional team to help you to coordinate all the details, like the itinerary or find the right vehicle for your group. We have excellent promotions, packages, and the best bus rates in Los Angeles, so don't hesitate anymore to reserve your charter bus with us.
Our luxury charter bus and mini bus fleet
If you are looking for a versatile and flexible group transportation service that adjusts to your group's specific needs and demands, you have come to the right place! In our fleet, you can find a large range of bus options of all sizes and models for any type of group travel. If you think of taking private vacations with your family or small groups of your friends, we recommend a mini bus. Likewise, our shuttle bus service is ideal if you need to transport larger groups to the Los Angeles International Airport or maybe to any reception or event. But a huge coach bus or charter bus is a perfect choice for a multi-location or long-distance trip with a lot of people. Thanks to our wide variety of transportation options, you can accommodate groups of all sizes without complications. So prepare your trip to Los Angeles and have a memorable experience with our charter bus rentals.
Traveling on board our charter buses is a pleasure since our complete fleet is fully equipped with luxury amenities and features for a comfortable and entertaining ride. From watching your favorite movies or reproducing your preferred playlist to navigating through the internet or taking a snap, on our buses, you will have an enjoyable trip. Each bus has flat-screen televisions, DVD players, a top-tier PA system, power outlets, onboard wifi, reclining plush seats with ample legroom, footrest, privacy windows, onboard restrooms, luggage storage, overhead bins for your personal belongings, and more. For more detailed information about our vehicles, give us a call today. Don't wait until the last minute to rent a charter bus with us and visit Los Angeles, CA!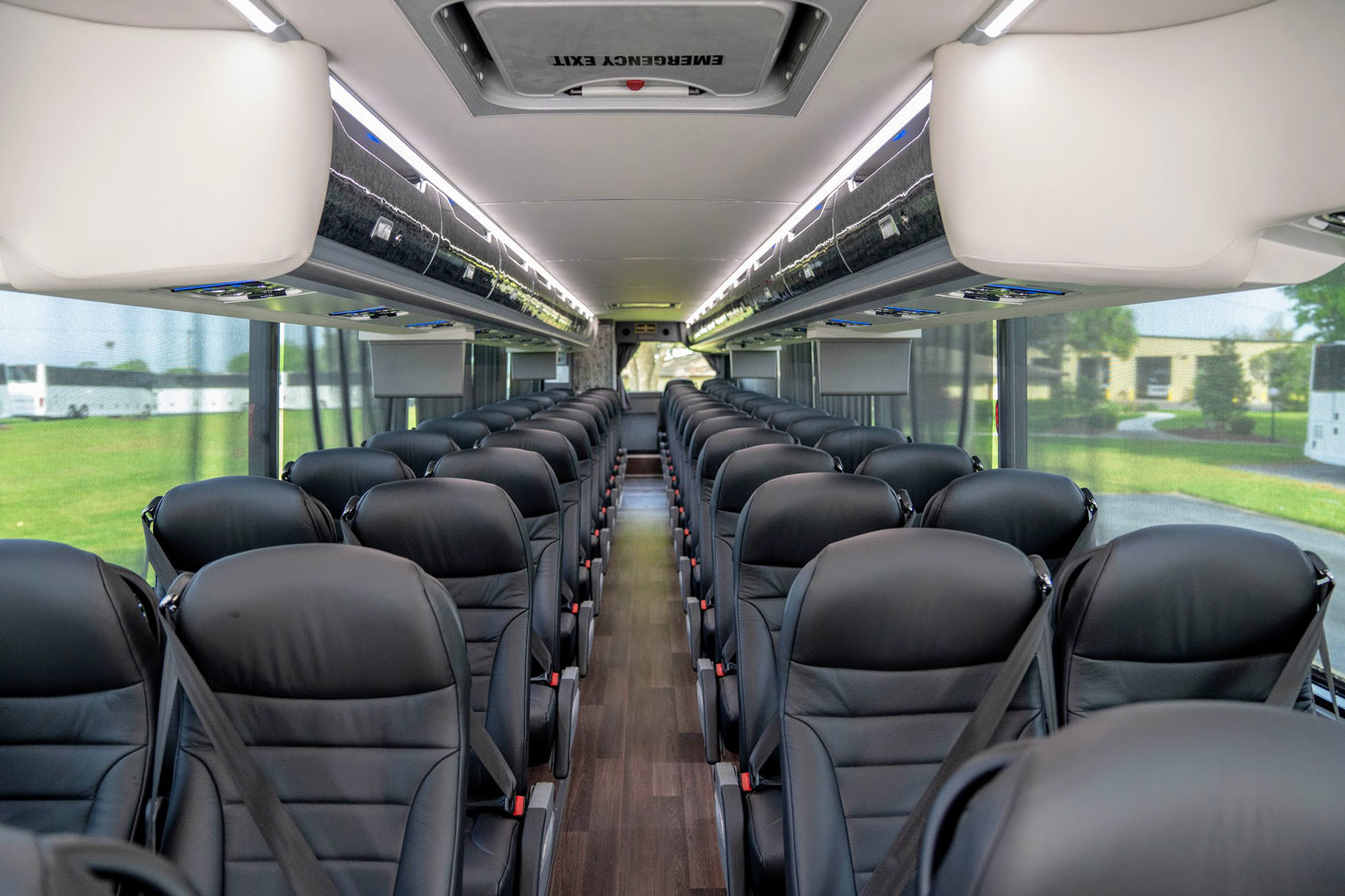 Our charter bus driver service
Driving yourself or taking public transportation in a city like Los Angeles can be complicated. That's why you will have at your disposal a professional driver to make everything more manageable during your trip or event. We work to guarantee the safety of our clients, so our chauffeur team is properly trained to take care of each detail on the road and handle any situation in the best way. You won't have to worry about traffic jams, look for a parking space, or take the best routes to arrive on time to your destination. Whether you want a pleasant journey or to be punctual during an airport transfer or your corporate events, with our quality service, we meet your expectations. Just sit back and have an amazing journey with your group around Los Angeles while our chauffeurs drive for you. Choose our charter bus rental service for a stress-free ride.
Popular destinations in Los Angeles
Los Angeles is the perfect destination to travel with family and friends! This city is home to amazing attractions and tourist spots, so prepare your bucket list for your trip according to our recommendations. First, go along to the iconic The Hollywood Walk of Fame, a 1.3-mile stretch spotted with more than 2,600 stars of recognized celebrities. Second, for art lovers, there are options like the Los Angeles County Museum of Art or the Getty Center, where you will see works by van Gogh, Monet, Rembrandt, Picasso, Paul Klee, and others. Third, Griffith Park is a large municipal park at the eastern end of the Santa Monica Mountains, where you can see the famous Hollywood Sign and go to other attractions like The Griffith Observatory, the Los Angeles Zoo and Botanical Gardens, and the Greek Theatre. Fourth, visit Universal Studios Hollywood, a famous film studio and theme park, where you can take rides and enjoy attractions based on famous movies and tv series like Harry Potter, The Simpsons, Despicable Me, Fast & Furious, Jurassic World, and more.
Also, you can go to La Brea Tar Pits and Museum, an active Ice Age excavation site and museum where you learn more about archeological science and see live fossil excavations. Don't forget to visit Santa Monica Pier, the perfect place for shopping, eating, fishing, or even going to the small amusement park there. Further, if you are looking for a family plan, the perfect option is the Disneyland Resort and its two theme parks: Disneyland Park and Disney California Adventure. Likewise, sports fans can enjoy a big game in Dodger Stadium or Rose Bowl and cheer on their favorite sports teams. If you are interested in other places and plans in Los Angeles or California, you can go to The Getty Villa, Beverly Hills, West Hollywood, Hollywood Boulevard, West Coast, Venice Beach, Downtown Los Angeles, or Orange County. Prepare your entire group for a unique experience with our charter bus rentals in Los Angeles.