Fleet
20 Passenger Party Bus
Allow us to cart you around in true style with this party bus. Equipped with the latest amenities such as flat screen televisions with a DVD player and its own dance floor, there's not a single reason to not book this bus today! Being one of our smaller vehicles, it tends to book quickly. Party the night away in this beautiful party bus!
22 Passenger Party Bus
Looking for a vehicle with a little more attitude? Look no further than this gorgeous party bus. Fit to handle up to 22 passengers, you'll find that this bus is perfect for any kind of event out there. Customers love it for its comfortable seating and in-bus bars, and especially the low price. You'll be sure to love this vehicle.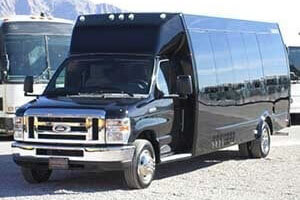 30 Passenger Party Bus
This party bus is one of our customer's favorites because of the ample space within it! You'll have no problem at all dancing around the bus with all of your friends. You can even customize your soundtrack with the iPod connectivity option. You'll be sure to experience a night to remember when you book this party bus for your next event.
30 Passenger Party Bus
Dance the night away in this spacious party bus. Designed for all groups in mind, even if you have half of the allotted passengers, you'll still have an amazing time with all of the dancing space around you. Not to mention the stripper pole that comes with all of our amazing vehicles! You won't regret booking this beautiful, gleaming party bus for your next event.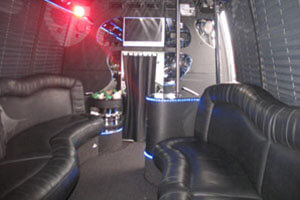 34 Passenger Party Bus
Don't worry about going to a party, with this mega bus you'll bring the party with you wherever you may want to go! This bus is our largest offering in our fleet, and the sheer size allows it to be used for literally any kind of event. Splitting the price between passengers makes it even more affordable than you'd think, and the feature filled amenities will make you feel like you're getting a steal! Book this bus today for your next special event.
36 Passenger Party Bus
Designed for larger groups in mind, this gorgeous colossal beauty is one of our most popular offerings. With ample amount of room to dance and party in, there's no surprise that this is one of our most booked buses. With that in mind, if you're thinking about renting this vehicle, get it now! You'll remember the night for the rest of your life. Think about it, how often do you get to dance in a portable nightclub?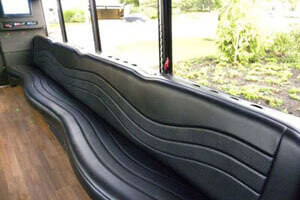 Freightliner Party Bus
This beautiful, spacious party bus is perfect for all types of events. The comfortable leather seats will allow all of your guests to relax, and the wood floors and dance pole will be perfect for the dancers in your group! There's colorful lights, privacy shades for the windows, a large TV and a DVD player, built in beverage bar, and so much more!
25 Passenger Escalade
There's no reason not to book this fantastic vehicle for your next event. It comes with all the amenities you've come to love from party buses such as audiophile grade sound systems and hardwood flooring. Since its an Escalade, you know that it'll be both safe and durable for your entire trip. Travel safe with this beautiful stretch limousine.
Mercedes Limousine
For the ultimate in luxury, our Mercedes SUV limousine is the vehicle for you. This top of the line limousine has a custom interior with plush leather seats, custom lighting in the ceiling and floors, and throughout. There's a great stereo system, TV, build in bar, and much more. You'll have an outstanding time on this limo.